During long cross-country flights, we tested in depth this EN C paraglider aimed at stress-free performance, which offers an effective and sporty handling, as well as good comfort in flight. Daniel Crespo - ojovolador.com
---
Elan 2 is the renewed EN C wing from the Czech manufacturer Mac Para. This paraglider offers very attractive characteristics for sport and cross country pilots, from a really top performance, combined with very easy and nice turning behaviour, to a way of absorbing turbulence and wags that makes it a low-stress wing. All that allows the Elan 2 to become an ideal partner in your long cross country flights.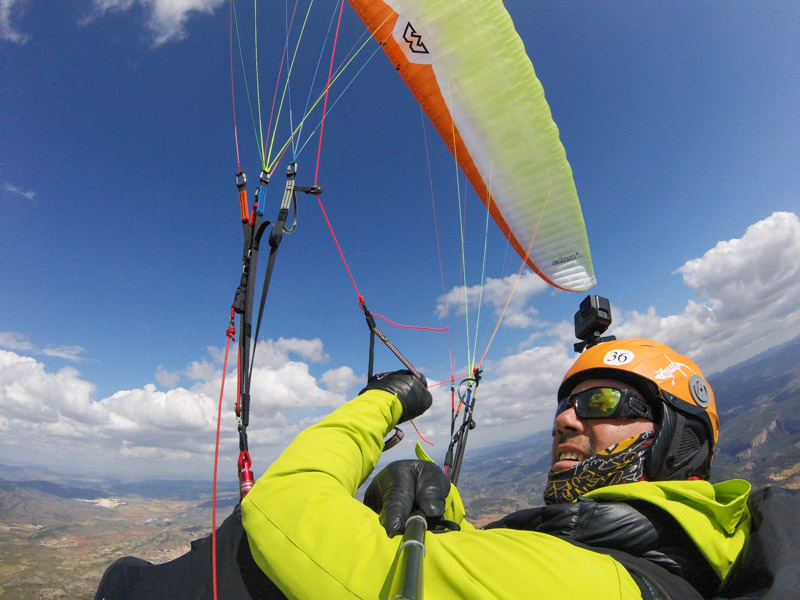 Macpara Elan 2, the winning wing at El Yelmo XC Open 2018
I had the opportunity to try this Sport class paraglider in the context of the XC Open El Yelmo 2018. There I "tried" this model in some fantastic 11 hours of flight, travelling 140 and 173 km distances, which, by the way, were each the best flights of the day.
The thing is that, knowing I would spend long hours in the sky during this XC championship, I decided to fly a paraglider designed for that purpose, more comfortable and friendlier, instead of flying my excellent -although demanding- CCC. And such a decision was a resounding success.
The Elan 2 is an EN C certified paraglider, with 3 lines and a flat aspect ratio of 6,27. Mac Para is a manufacturer which pays special attention to offering a wide range of weights, in this case the Elan 2 is available in 6 sizes, 7 of them certified, that cover an amazing range from the 55-70 kg of size XS for the lightest pilots, to the big 38 size that goes from 145 to 180kg, and the only uncertified one. All the rest have LTF/EN C certification.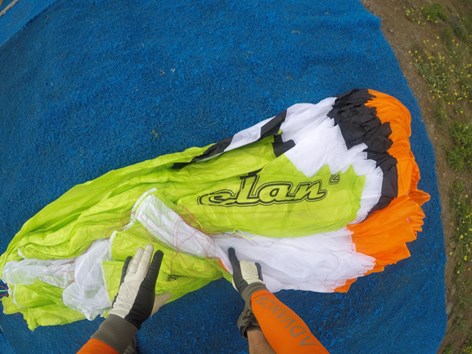 Lets's enjoy the Elan 2.
Wing loading
I flew the Elan 2 XL of 30,28 m2 (105-130 kg) with a total weight in flight of 125kg, that is to say, with a wing loading of 4,12kg x m2. From the very first moment I felt comfortable with this wing, in fact I would say that it offers a perfect compromise between speed, turning behaviour, comfort and sink rate, particularly when we talk about XC flights.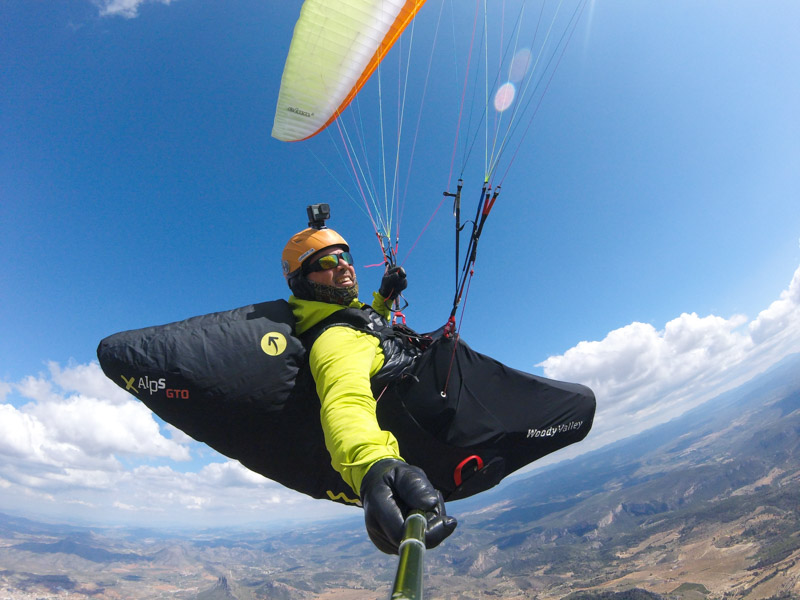 The Elan 2 is an easy to fly glider.
Inflation
The Elan 2 offers a soft and slightly cushioned touch. Its low weight of 5,5 kg for size 30, which was the one we test-flew, enables it not to have much inertia or to be abrupt. And you can feel this from the inflation. With the Elan 2 you don't need any special preparation or complex rituals. You simply graduate the pressure over the A lines so that it rises progressively and places itself over your head. The centre gains pressure first, and the ends do it a bit more slowly. Basically, we can summarize the inflation maneuver as easy and without issues.
In the air
It shows good internal pressure, but without too much tension in the wing. In fact, we can see that the Elan 2, although it is compact, moves and transmits the movements of the air, but it does so in a dampened way, and the pilot obtains smoothed information. Just enough to react efficiently, understanding what it is going on in the air.
This glider offers good trim speed, about 40-41km/h, with high control and good precision over the track.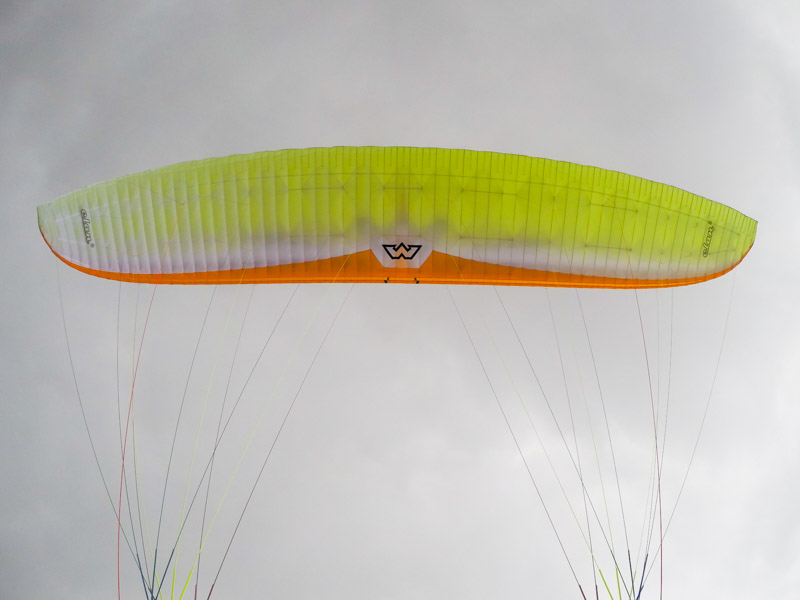 Turning and handling
The Mac Para Elan 2, besides offering great performance, is fun and very suitable for recreational flights.
The Elan 2 offers a smooth and precise touch, with immediate response, but it doesn't feel dry or violent. The usable brake travel is short, and allows us to develop sport piloting. The wing works as two semi-wings, flexing when we force it. This feature is easy to understand, and it will enable us to force the turn whenever we need it, remaining still far from a negative spin.
With this EN C glider you can enjoy all the possible range of turns, from the flattest to the "screw" turn to go up in the narrowest cores.
The Elan 2 has two big handles on the C risers, comfortable and easy to use, and essential to make the most of your glides when flying. With these handles we can use the "bouncing" technique to transform turbulence into performance in "2-line" style.
Performance and speeds
The Elan 2 is an EN C paraglider completely competitive; its performance and flying characteristics place it as one of the most competitive gliders in the Sport class.
The first thing we can see is its good trim speed, about 41km/h. We get the best glide pushing the first step of the speed bar to reach about 45-47 km/h. When we push the bar until the end we reach 55 km/h, a speed that is still very efficient in glide.
During the two XC flights I did with this wing I faced different conditions, from the most difficult "little zeros" I had to make use of at the end of the evening, and in which I found the Elan 2 made things easy for me, until hard and turbulent conditions, where I still felt comfortable, without big surges or violent movements. Generally speaking, this EN C model conveyed comfort and confidence.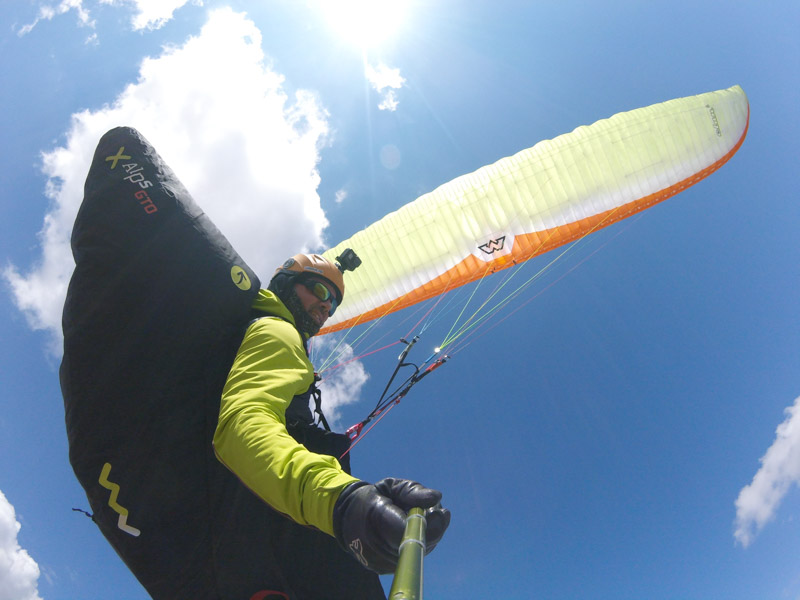 Conclusion
The Mac Para Elan 2 performs really well when compared to the more advanced Serial class gliders.
The Elan 2 offers great performance to climb.
The Elan 2 is a high-end EN C glider, comfortable and easy to fly with the highest performance level. It also offers effective and sportive piloting, keeping a smooth flying and low stress levels. In this case, Mac Para 100% fulfills its slogan "Fly in Peace".
For whom
The Elan 2 is an excellent option to progress from an EN B wing without feeling overwhelmed. And it is also an extraordinary choice for more expert pilots who want to do ambitious XC flights without the stress of 2-line models.